12 Totally Different Ways to Organize All Your Spices
Posted by Mark Cabal on Thursday, January 12, 2017 at 4:07 PM
By Mark Cabal / January 12, 2017
Comment
Because somehow, home cooks' spice storage needs are always very particular.
Store Spices Like a Scientist
Who says test tubes have to stay in the lab? Since kitchens are pretty much the home's
experiment center, we think they're just as appropriate for your various flavors of salt.
See more at Young House Love »
Create a Custom Drawer
All you have to do to show off your spices like a pro is add three different rows of trim to the
bottom surface of a drawer — it'll prop up your jars so each container sits at an angle, making
labels easier to read and your spices easier to grab.
See more at The Cavender Diary »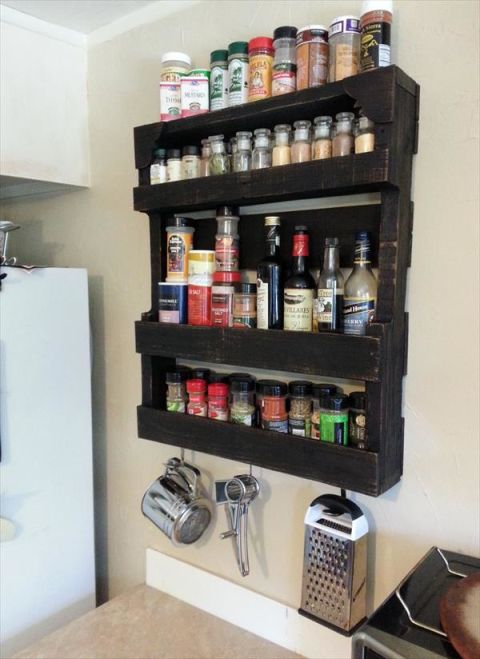 Use a Wooden Pallet
Isn't it amazing that a coat of black paint takes an average pallet from rustic to sleek
almost immediately? Even better: This wooden shelving unit features four shelves for spices
— not to mention hangers for a cheese grater and more below.
Make Your Own Out of Wood
It took this blogger less than $8 and 15 minutes to build this savvy spice rack that hangs on
the inside of her cabinet. Keep your favorites on two shelves, or continue to stack 'em to the
top of the door to fit your entire collection in one space.
Get the tutorial at Jenna Burger Design »
05 OF 12
Stash Spices in Baby Food Jars
Don't invest in expensive jars to organize your different spices. Just hold onto the
containers your kid's baby food comes in — or ask a parent buddy to keep a few for you.
See more at One Lucky Pickle »
06 OF 12
Show 'Em Off on Your Refrigerator
You hang notes and pictures on the front of your refrigerator — so why not your spice collection?
Tins with magnetic backs add color to this all-white appliance and put what's more important in
the kitchen (the taste of the food!) first.
Add Storage in Unexpected Places
Don't waste the space on the back of your pantry door — use it to store racks and racks
of flavorful spices. Here, a whopping 30 different varieties find a home where they are on full display.
Line Them Up on Your Wall
If case you didn't already know, IKEA picture ledges are the bee's knees. Here, they treat beautiful
jars filled with colorful spices like art in a simple, but stylish, kitchen.
Give New Life to Cooling Racks
Find Storage in Antique Stores
Who knew a vintage Dr. Pepper crate could be the most adorable spice rack of all time?
Then, jars with black and white labels make it quick and easy to find the flavor you need for your tomato sauce.
Make Your Backsplash Work Harder
When you hang these beauties on the wall near your stovetop, you'll never have to take your eyes
off of your sizzling meat while trying to hunt down the perfect dried herb to make your (and your family's) mouth water.
Hang Items in a Shower Caddy
Instead of shampoo and conditioner, fill your shower caddy with salt and pepper.
If you pick one out that's narrow and features multiple shelves (like Reddit user LutzExpertTera did)
you'll have more than enough space for all of your kitchen favorite flavors.
<BY LAUREN SMITH>
<From: Good Housekeeping>