China's Runaway Housing Market Poses Latest Challenge for Yuan
Posted by Mark Cabal on Tuesday, December 6, 2016 at 3:13 PM
By Mark Cabal / December 6, 2016
Comment
Here's the latest uncertainty facing China's currency: sky high house prices.
A runaway boom in the largest cities will push investors to look for cheaper alternatives overseas, draining money out of China and putting downward pressure on the yuan in the process, according to analysis by Harrison Hu, Chief Greater China Economist at Royal Bank of Scotland Group Plc. in Singapore.
An "enlarged differential between domestic and foreign asset prices will lead to capital outflows and depreciation, until parity is restored," Hu wrote in a note. He said that the 30 percent year-on-year price gain in Tier 1 and leading Tier 2 cities implies a 25 percent rise in dollar terms, which far outpaces the 5 percent gain in major U.S. cities. That ratio is here in red: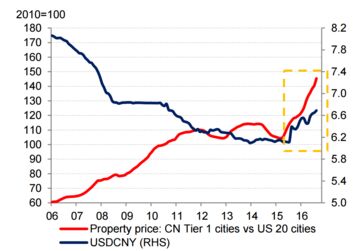 "It's commonly believed that China's policymakers will sacrifice the yuan exchange rate to avoid a sharp correction in domestic property prices, as the latter will more significantly derail China's economy and the financial system," Hu wrote.
That's because the importance of the property market in the world's second largest economy far outweighs many sectors, including the stock market. Hu compares property as a percentage of economic output to the far lighter footprint of stocks: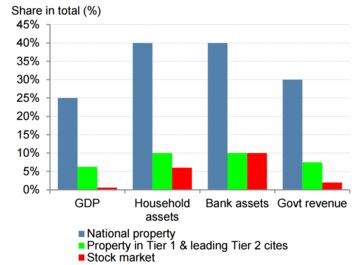 A real estate crash in China could have far reaching consequences and it would be a long time before investors regained their confidence, according to Hu.
That will put policy makers in a very difficult position. While the government has some cards in its hand, such as an ability to control land supply and enforce curbs on new home-buying, history shows that some tightening measures risk backfiring and only stoking speculative behavior such as "panic buying" like that seen in Shanghai earlier this year.
Besides, the regulator's handling of last year's stock market turmoil did little to inspire confidence in the government's ability to oversee the bubbly housing market.
"No bubble has a happy ending," Hu wrote.
Watch the video here
— With assistance by Miao Han / benchmark