Chip + Joanna Create a Stylish Home on a Tight Budget
Posted by Meaghan Kunkel on Friday, April 28, 2017 at 3:46 PM
By Meaghan Kunkel / April 28, 2017
Comment
"Skinnylap" makes a guest appearance as Chip and Joanna help a couple returning to Waco, Texas create a stylish home on a tight budget.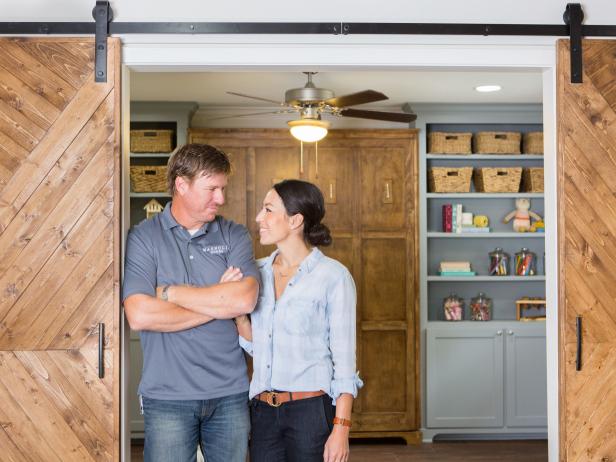 Jennifer Boomer/Getty Images
Waco expatriates Will and Laura Phipps have been away for six years, but now they're making their way back to their Central Texas roots and looking to find a home to raise their two young daughters. Their wish list? A house in an established neighborhood with lots of mature trees, four bedrooms, a large kitchen and an open living space that's well-suited for entertaining. The catch? Their initial budget is tight, even by Waco standards, presenting Chip and Joanna with some strategic challenges.
The home search zeroes in on the Woodway area where Chip and Jo set their sights on '60s and '70s vintage homes in a price range that will allow for at least nominal upgrades while staying within the Phipps' budget. Once a decision is made and the budget finalized, the exterior gets a facelift while, inside, the crew sets about removing lots of interior walls. The overall plan calls for merging and reconfiguring key spaces with a focus on functionality as well as distinctive design.
Recall that some weeks ago in our Fixer Upper season four preview, we tossed out a few teasers for things to watch out for this season. One was a focus on outside-the-box spaces — i.e., beyond the usual kitchen, dining room, living room and master suite. A second was the appearance of one of Joanna's new favorite wall treatments — skinnylap. Watch for both in this episode.
"The fun thing about design is that you can play off a pattern or texture to create something more than what you see. With this room, I really wanted to liven it up. What we ended up doing is installing this skinnylap, [but] we installed it vertically. The illusion is that with all of it going vertically, it feels like the space is taller. It's more inviting, but it's also a great pattern that breaks up this large wall."
-Joanna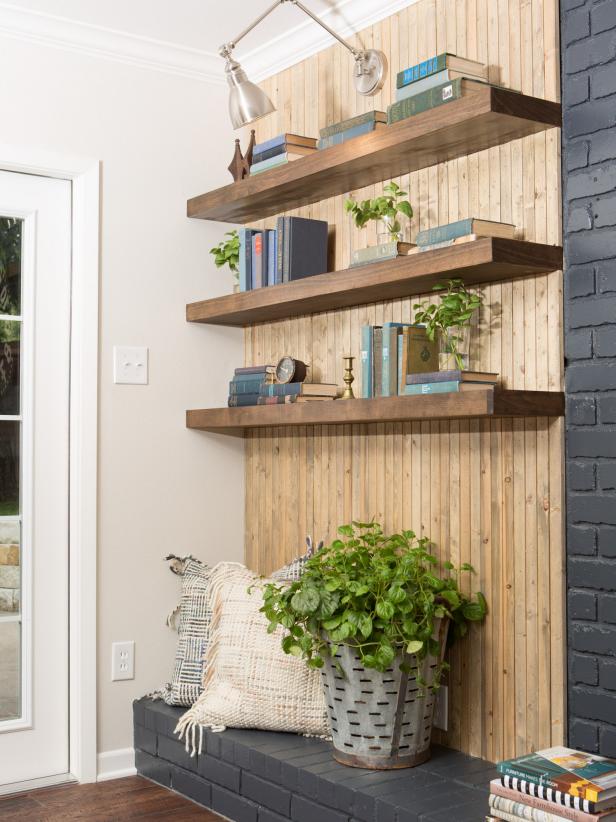 Jennifer Boomer/Getty Images
In terms of the details, balance and coordination are the watchwords as Joanna endeavors to define individual spaces within a new open floorplan, tying together specific elements via coordinated colors and textures. A brick fireplace gets a makeover with a paint color that ties in with a new kitchen island. And natural wood in varied finishes come heavily into play via new additions like artistically designed sliding doors in the living room and a built-in hutch in the kitchen.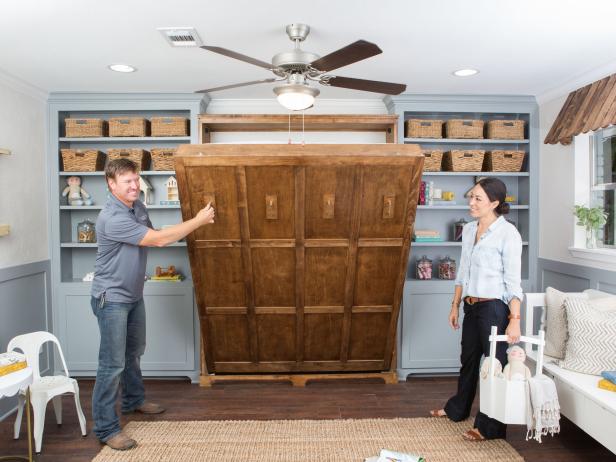 Jennifer Boomer/Getty Images
With regard to getting outside the box, a signature element in this reno is a multipurpose space that can serve double-duty as a guest room or kids' playroom. Joanna's design incorporates a stylized take on an old-fashioned Murphy bed, allowing for the space to be used as sleeping quarters when guests are visiting. The bed then folds up and out-of-sight when the room is being used as a kids' space. Open or closed, the bed provides visual interest via a natural wood panel and frame that tie in with other wood elements used throughout the newly renovated spaces.


Jo creates a welcoming space with room to play, work and sleep.
"Tight Budgets and Big Dreams" premieres on February 28 at 9pm|8c. Be sure to check back here to take the photo tour and see more web-exclusive "Design on Her Mind" videos highlighting individual spaces in this renovation.