Did you know? May is National Preservation Month!
Posted by Mark Cabal on Thursday, May 19, 2016 at 9:26 AM
By Mark Cabal / May 19, 2016
Comment
In celebration of National Preservation Month, Preservation Dallas is hosting several events
to raise awareness about the importance of historic preservation in Dallas. There will be free
and ticketed events, exhibits, tours & much more. All of the events will spotlight historic buildings
and places throughout Dallas. Here are the events that are coming up:
May 2-31, Mon-Fri, 9 a.m. – 5 p.m.
Architectural Styles of Dallas Exhibit
Dallas City Hall, first floor lobby
1500 Marilla St., Dallas, TX 75201
Free
Experience an engaging exhibit which highlights 27 unique architectural styles found in Dallas.
The hallmarks of each style are explained through text and photographs of local examples that
showcase the styles and bring the exhibit to life.
May 5-Jun 12, Sundays 10 a.m.- 2 p.m. and Monday – Saturday by appointment
Historic Dallas through Photography
St. Matthews Cathedral Arts
5100 Ross Ave., Dallas, TX 75201
Free
St. Matthew's Cathedral Arts and Preservation Dallas will present a new photographic exhibition:
Historic Dallas through Photography. The exhibit will feature work by a class of skilled photographers taught by professional photographer Carolyn Brown and will showcase work documenting historically significant buildings, structures and neighborhoods in Dallas.
May 19, 11:15 a.m. – 1:00 p.m
Park Cities Historical and Preservation Society 5th Annual Distinguished Speaker Luncheon
Dallas Country Club
4155 Mockingbird Ln, Dallas, TX 75205
$125
Join the Park Cites Historical and Preservation Society for their annual Distinguished Speaker
Luncheon at the Dallas Country Club. The speaker this year will be Katherine Seale, Chair of the
Dallas Landmark Commission, who will speak on "Historic Preservation in the Context of Change." Proceeds from the luncheon will fund scholarships at Highland Park High School for graduating
seniors who plan to study architecture, history, preservation, or another major related to the
preservation of our heritage. For more information or purchase tickets visit http://www.pchps.org/Tickets
May 19, 6 – 8 p.m.
Preserving the Cultural Heritage of Dallas
Dallas Institute of Humanities and Culture
2719 Routh St, Dallas, TX 75201
Free
Preservation Dallas and The Dallas Institute of Humanities and Culture are bringing together
a panel of representatives from the Dallas Jewish Historical Society, Dallas Mexican American
Historical League and Remembering Black Dallas to explore their challenges and successes
in preserving their cultural heritage in a time when many cultural groups no longer live in tight-knit communities in localized areas of the city. A reception begins at 6 p.m. with the panel discussion
starting at 6:30 p.m. Visit http://dallasinstitute.org/events/dallas-cultural-heritage/ to find out more
and to register for the event.
May 21, 10 a.m.-2 p.m.
Preservation Dallas Spring Architectural Tour
$35 for members, $50 for non-members
This year the annual spring tour will feature Preservation Dallas award winning projects around
the city for people to enjoy and learn from the outstanding preservation efforts of their owners. Visit http://www.preservationdallas.org/events/architectural-tours/ for more information.
May 24, 6:00 p.m.
InTown Outing to Cannon's English Village in Oak Cliff
1314 West Davis Street, Dallas, TX 75208
Free for Preservation Dallas or OOCCL members, $20 for non-members
Preservation Dallas and the Old Oak Cliff Conservation League will host a tour of the unique Tudor
style 1922 commercial building known as Cannon's Village located on Davis Street in Oak Cliff.
A recent renovation brought the derelict building back to life with new commercial spaces on the
first floor and apartments on the second floor. Call the Preservation Dallas office to make a reservation for the tour at 214-821-3290.
Here is a photo of Cannon's Village before it was renovated -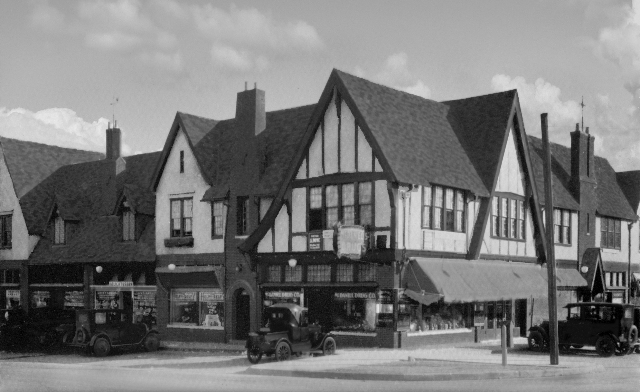 It's so humbling to live in state with such historical backgrounds!